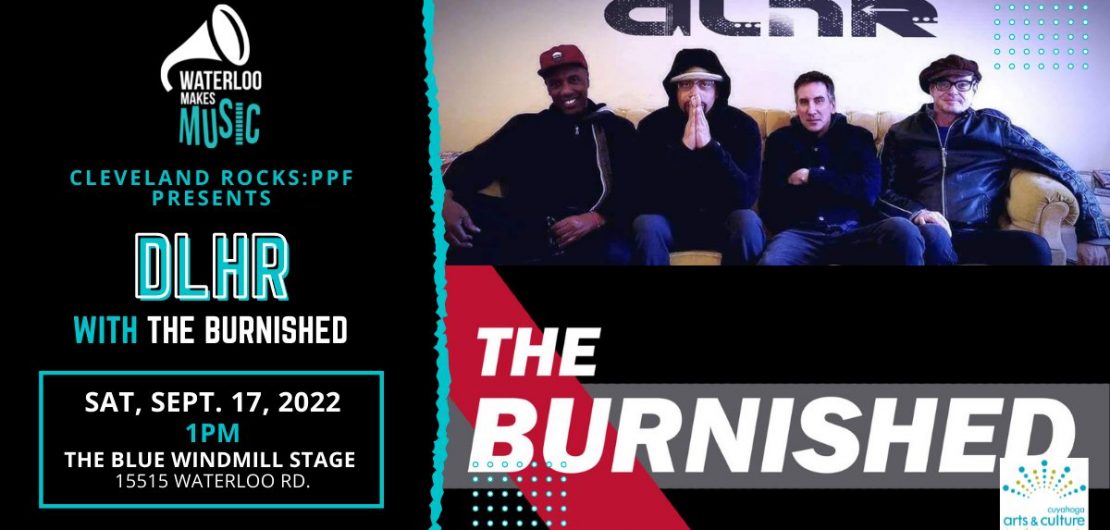 Waterloo Makes Music: DLHR with The Burnished
Details
Date: September 17, 2022
Time: 01:00 pm
Venue
Waterloo Makes Music: DLHR with The Burnished
15515 Waterloo Rd
Cleveland, 44110-1726,, Ohio, United States
Waterloo Makes Music (WMM) is a free concert series, programmed by Cleveland Rocks: Past, Present, Future, as a gift to all the music lovers in the community, and a celebration of Cleveland's amazing musical legacy. Held in the Waterloo Arts & Entertainment District, the Tower series features local Waterloo area bands/musicians.
Saturday, September 17, 2022
DLHR
The Burnished
1pm at the Blue Windmill Stage (15515 Waterloo Rd).
Free Show
Daddy Longleg's Homegrown Revival (DLHR) weaves a rich tapestry of musical genres from all corners of the earth, often complemented by live performance artists onstage. A mix of Middle East Afro-funk, Jazz, Latin, Reggae, French Cafe, Americana, Rock, Soul, and Gospel. Santana meets Lenny Kravitz w/hints of Green Day, Fela Kuti, Kamasi Washington and Red Hot Chili Peppers.
https://www.facebook.com/dlhrmusic
https://dlhrmusic.wordpress.com/
https://www.instagram.com/dlhrmusic/
https://dlhr.bandcamp.com/
https://open.spotify.com/artist/4nWY1ArhUcoo7dMcZoBYem
https://www.youtube.com/channel/UCpiIz2wnnJ_NPIycVeyg5mQ...
The WMM Series is made possible with support from Cuyahoga Arts & Culture.